Bringing image of God to light
Egyptian iconographer creates sacramental art for St. Mark Church
By CHARLES PORTMAN
Staff Writer
November 5, 1998
He came to the United States for the first time six months ago, not with intentions of sightseeing, but instead to create sights for people to see in Seven Hills.
Ashraf Gerges, 34, of Cairo, Egypt, has a rare occupation.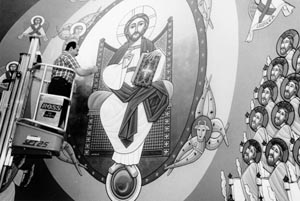 ---
Ashraf Gerges touches up a painting at St. Mark Church in Seven Hills.
---
He is one of only a few iconographers around the world dedicated to creating religious icons for the Coptic Orthodox Church. His most recently completed works are part of St. Mark Church, located on East Pleasant Valley Road.
He created the large icon behind the altar called "Bosom of the Father" and icons for the church's iconostasis, a 20-foot high marble wall in front of the altar, containing several significant Coptic icons.
The environment in which Gerges creates icons is important in relation to the outcome of his work, and Seven Hills, he said, is a relaxing place that keeps the mind clear. "On the way here from the airport when I first arrived, I noticed the green grass and nice surroundings of Seven Hills; they put me at ease. That's important to me when I work," he said.
Gerges's dedication over the past several months includes many long days and a lot of prayers. His efforts were highlighted by a visit from the highest Coptic religious leader, Pope Shenouda III, who came to Seven Hills in September to consecrate his work.
"I worked 15-hour days to make sure everything was perfect for the consecration ceremony," Gerges said. The event attracted Christians from around the continent.
Icons are deeply rooted in the Coptic religion, and to the Cops they are much more than just paintings. The process in which an icon is created is sacramental in nature and must follow guidelines established by the church.
"It's not art, it's a process," said Gerges. "I say certain prayers at different stages of my work; and everyone in the church becomes involved in the process through prayers eventually," he said.
Back in Cairo, Gerges is an associate professor at the Institute of Coptic Studies. In addition to his master's degree in contemporary Coptic icons, he also holds a bachelor's degree in accounting from Ain Shams University, and a master's degree in eastern folklore from the Academy of Fine Arts, in Cairo.
He was born in Suez, and his parents learned about his artistic abilities around the same time he did. "When I was a young boy, 5 or 6 years old, my parents discovered that I liked to take the newspapers and draw mustaches and glasses on the people in the pictures," Gerges said.
When he was 14 years old teachers started encouraging him to use oil colors, and that's when he began to paint religious paintings. Paintings of St. Mary, St. George and of Christ were among the first of his oil pieces.
Gerges says he feels inspired when painting for the church. During his first year at the Institute of Coptic Studies he was invited to paint a large oil painting in a church in Cairo, and since then he has painted only for the church.
"My work is most fulfilling, considering the appreciation it gets from the people," he said.
Gerges has been enlivened by many of the people who appreciate his work.
One example he'll remember forever happened when he painted a Nativity icon for a friend's mother in Denmark. She had become too ill to go to church for Mass, so she hung the icon over her bed. With it hanging there she could feel the Holy Spirit, she said.
In the Nativity scene there's a star with a streak shining down on baby Jesus.
"My friend's mother noticed one day that the star appeared to be very bright and the streak seemed to be passing baby Jesus and shining onto her bed."
"After hearing about that I realized how important my work is," he said.
Gerges recently returned to Cairo to start decorating another church for Pope Shenouda.
He plans on returning to Seven Hills next summer to complete a large landscape scene in the rear of St. Mark church.