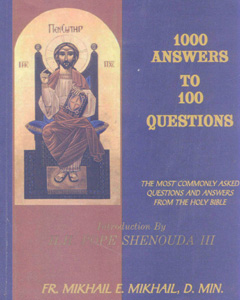 Preface

This is a unique book containing one thousand answers to one hundred questions, each question replied to with ten points.
The questions start from the Book of Genesis and continue throughout the Holy Bible to its last book, The Revelations. The focus of this book is to cover the most commonly asked questions with answers from the Holy Bible itself, as the Bible has all the answers. This is what we learn from the Psalmist, who states, "Your word is a lamp to my feet and a light to my path." (Ps. 119:105).

I offer this book to each person who desires the truth, and who is willing to obey the truth when he or she finds it.

Next to the Holy Bible, one needs a concordance, a Bible dictionary, a Bible atlas, a Bible commentary, and this book,
1000 Answers to 100 Questions

I would be most happy to hear from those who find this book helpful in their personal lives. For such persons, I wrote this book.
Father Mikhail E. Mikhail, D. Min.